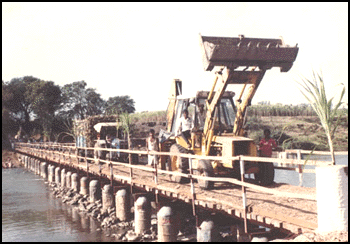 In 1973, Late. Shri Yashavantrao Chavan fulfilled his dream in making up the Sahyadri Sahakari Sakhar Karkhana at Shirawade, Tal. Karad,. To provide sugarcanes from the western bank of Krishna river it was compulsory to come via Karad or Masur, and it was a longer journey. It resulted in great expensive on money, fuel and human labour, farmers as well as sugarcane carries troubled by this long tour. It was only because there were no bridge to link the sugar factory to western side of the river.
An ingenious farmer from Rethare Khurd, Shri Sadubhau Patil made a plan and showed it to Shri P.D. Patil, founder and Chairman of Karkhana. Mr. Patil decided for itís implementation. Only within four months the bridge came into existence for itís building an empty tar barrels were buried in the shallow riverbed and then joined by iron bars and cement-concrete.
This bridge is 320 feet long and 12 feet in width. It was 32 blocks and 3 barrels are used for each block. They are joined to the iron bars and strips with nuts and bolts. At the both sides of this bridge there are raised seats of iron strips. For making ease of transporting, they have not left gaps between two wooden planks. The bridge is suitable for accepting reasonable load. A tractor and two trallies can easily cross the bridge ( weight 20 tones), Even When , there are five tractors crossing the bridge in sequence, it is not of as harmful thing to it. But the limited width of the bridge is the cause of one-way traffic here.
In this bridge 5 Lakh rupees has been invested in 1974 and it made cut in the fuel of some crores, labour, time, fuel, and so on.
Every year in the first or second week of June the folding of bridge begins. Wooden slippers, bars and iron strips are kept aside and the bridge is prohibited to traffic for the entire rating season. Again there start hardships of commoners. The bridge is opened only before 7 days of the start of Ď Crushing Period.í
Since 1974 the sugar factory has been spending itís own Rs 25000/- per year for connection folding and maintenance. Ihis expensive work have been done by Sugar factory for the service to the Society.